It's finally here. Mozilla has unveiled Thunderbird 115.0, a major new release of its open-source, cross-platform email client. The first major release since Thunderbird 102 debuted in late June 2022, Thunderbird 115 is dominated by one major new feature: a brand new user interface named Supernova.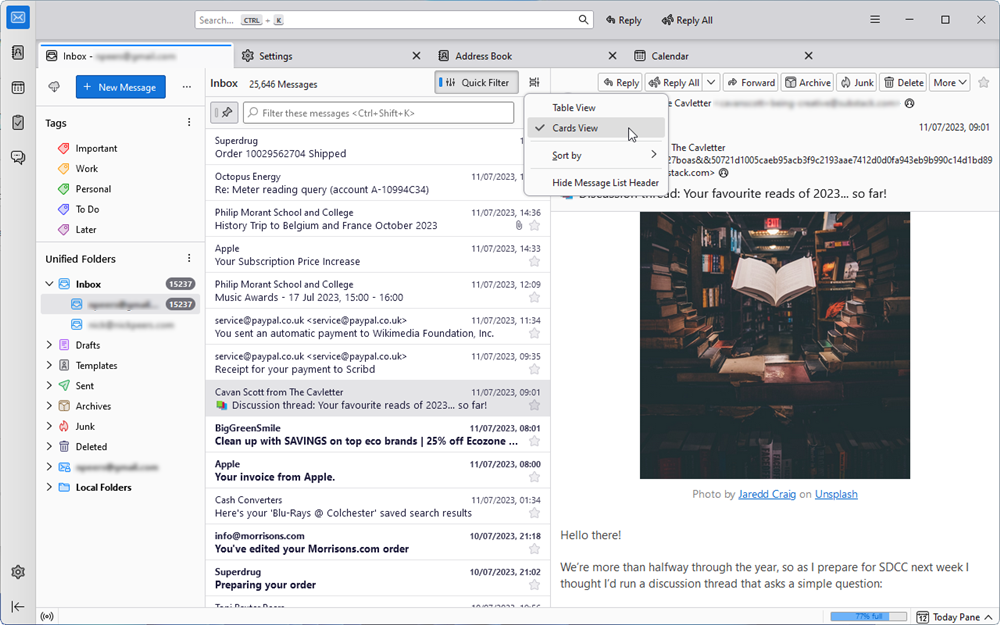 The new Supernova user interface sees Thunderbird move away from its traditional two-pane layout with the option of a three-paned 'Vertical' layout, with the contents of the currently selected email displayed in a separate right-hand pane rather than below the message list.
The view – which is only enabled by default on new installations – can be accessed via the new App menu: click ≡ followed by View > Layout > Vertical to enable it. Once in place, users can also switch to a modernised 'Card View' message list, which emulates mobile apps with multi-line support optimised for use with the Vertical layout. It's currently restricted to just two lines, but will improve in future releases.
The App menu has itself undergone major surgery, restructured to make it simpler and more intuitive to use, which includes making it keyboard friendly.
The multi-toolbar layout at the top of the Thunderbird window is also gone, replaced by a single dynamic unified toolbar, its contents mixing frequently used items with contextual options depending on the currently select tab or space. Users can right-click the toolbar and choose Customise to add their choice of buttons to either side of the search bar for quick access.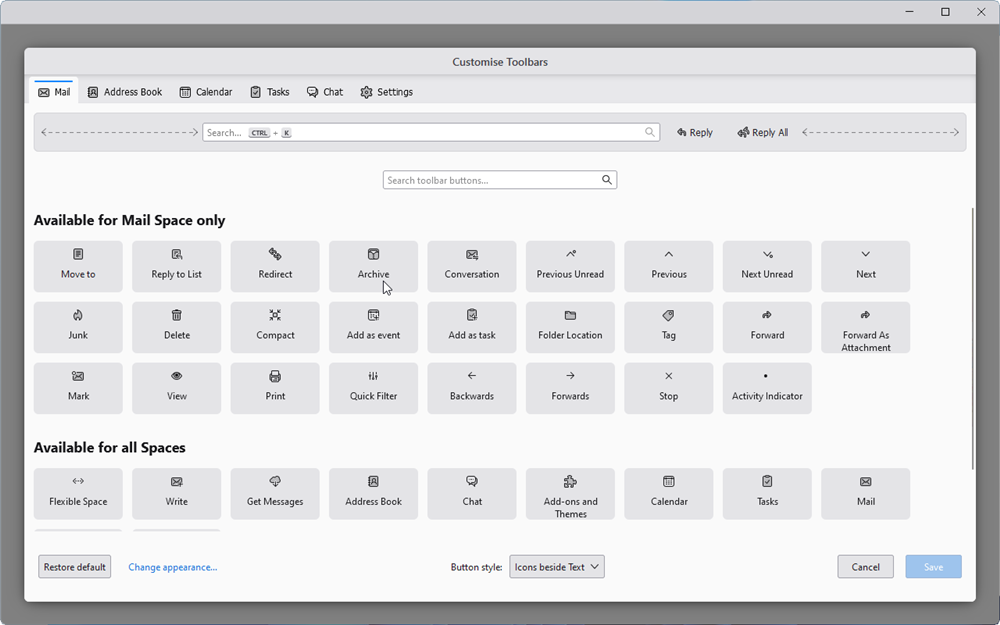 Elsewhere, the Supernova interface introduces support for sortable Folder Modes, which allows users to display tags in the Folder Pane via a new view, switch Local Folders on and off as required, and rearrange Folder Mode sections quickly and easily. There's also a new Unified Folder view, designed to mix multiple email accounts in a more manageable view.
The UI takes full account of modern display setups and offers an easy way for users to quickly refresh density and font size depending on which display they're currently using via the App menu's Density entry, which offers three clickable buttons.
Elsewhere, the modern Address Book introduced in Thunderbird 102 last year gains a new tabular view, improved Edit view with delete buttons and overall improved accessibility. The Calendar also gains a new 'mini-month' layout.
The Supernova UI has understandably dominated the new release, but many more minor new features have also been added, along with the usual slew of tweaks and bug fixes, all of which can be read at the program's release notes.
Thunderbird 115 is available now for Windows, macOS and Linux. A portable Windows build should follow shortly.