Everyone needs a backup – but those backups require protecting too. Thankfully Acronis Cyber Protect Home Office 2023 Advanced has both bases covered: comprehensive backup for everything from individual files and folders to entire hard drives on the one hand, and protection against data-stealing malware on the other.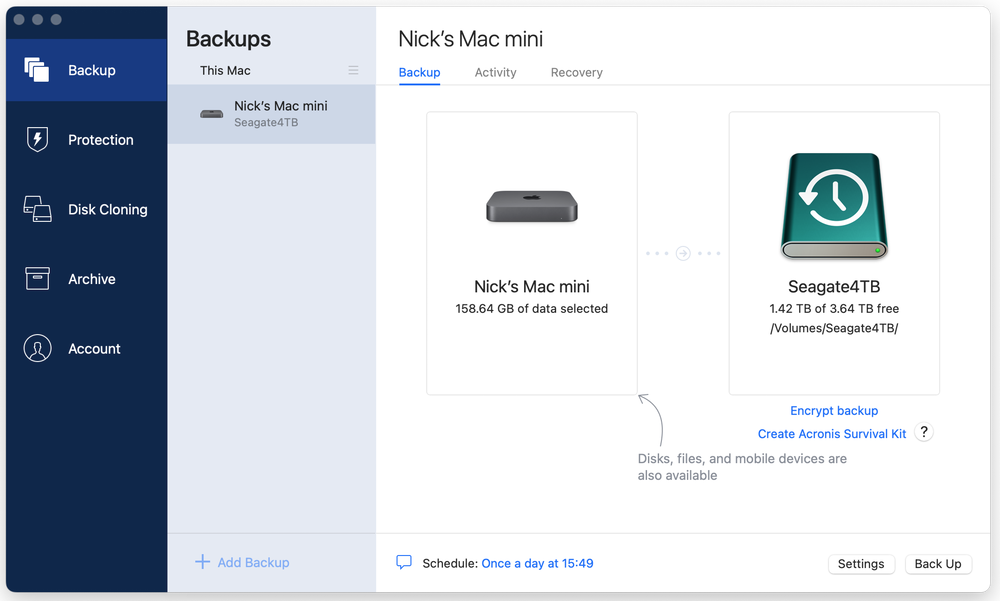 Not only does Acronis Cyber Protect Home Office 2023 Advanced - available for under £25/$30 thanks to our great deal - allow you to back up your files to another drive plugged directly into your PC or Mac or some form of network attached storage, but your subscription also entitles you to hundreds of gigabytes of online storage space, ensuring at least one copy of your data is stored offsite according to backup best-practice.
The program is incredibly easy to use, with a wide range of tools and features easily accessible from Cyber Protect's main screen. The core of the program remains its comprehensive backup tool: select Backup and by default you'll find your entire computer has been selected for backup. Don't worry: click this to reveal a wide range of options, allowing you to back up exactly what you want to, whether that's entire drives or partitions or individual files and folders. You can back up to local disks – including network-attached storage, but one copy should always be kept in a separate location, which is where Acronis Cloud's generous 250 GB storage plan comes into its own.
Backups can be scheduled to run automatically in the background, and by default, Acronis is configured to minimise the size of future backups by recording only the changes made since the last backup was taken.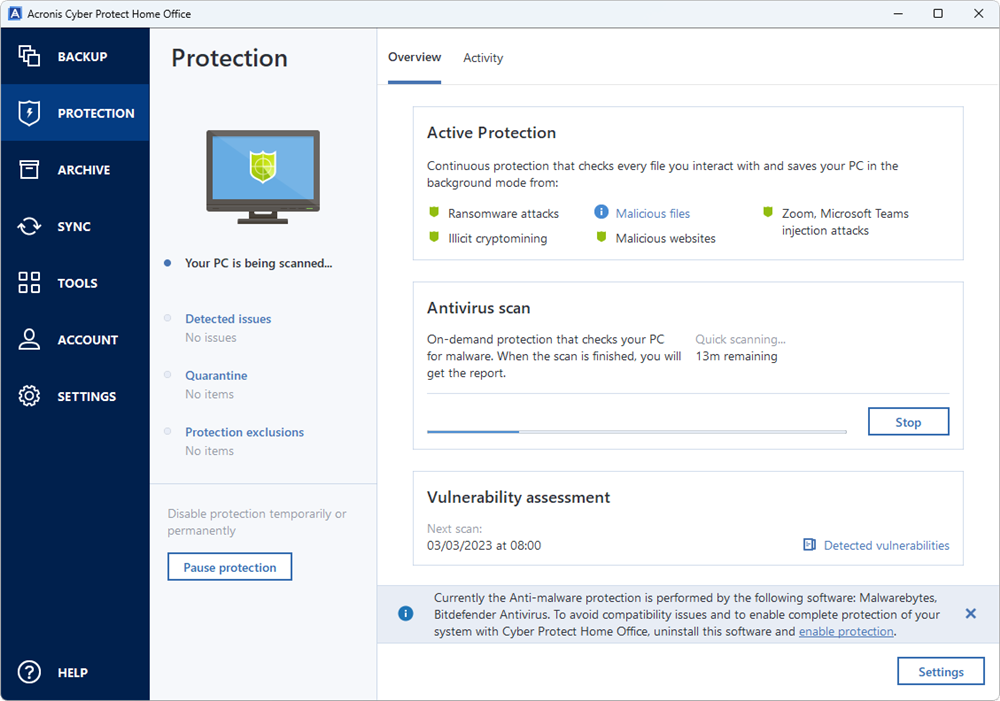 Beyond backup
Both PC and Mac versions of Acronis Cyber Protect Home Office 2023 Advanced also allow you to clone your drive – perfect for upgrading your drive or computer. As always, Acronis's step-by-step wizard makes things easy for you. There's also an Archive tool allowing you to move large files off small hard drives to free up space.
The 'cyber protect' part of Acronis protects you from data-stealing threats such as ransomware. Scans can be run on demand and there's real-time protection against all forms of malware (note, you'll need to remove any existing antivirus software to make use of this latter feature).
PC users also gain several other useful tools, from a Try & Decide feature for testing software without committing the changes to your hard drive to a sync tool for keeping selected folders in sync between your PC and Acronis Cloud or another computer running Acronis Cyber Protect Home Office.
It all adds up to a backup tool that's as comprehensive as it's powerful. And thanks to our amazing deal, you can pick up a one-year, one-PC/Mac license of Acronis Cyber Protect Home Office 2023 Advanced, complete with 250 GB online storage, for a mere $29.99, a saving of up to 67% on the MSRP.
You can also download a free trial of the program – Acronis Cyber Protect Home Office 27.4 build 40278 for Windows, and Acronis Cyber Protect Home Office 27.3 build 40208 for Mac are available now.