Lockdown has benefited relatively few companies, but one of those is undoubtedly Zoom, the video-conferencing service. It's just unveiled Zoom 5.4.0 for desktop and mobile, with a host of new and improved features.
There's the much-anticipated rollout of end-to-end encryption for secure messaging, plus additional improvements to the app's meetings, chat and phone features.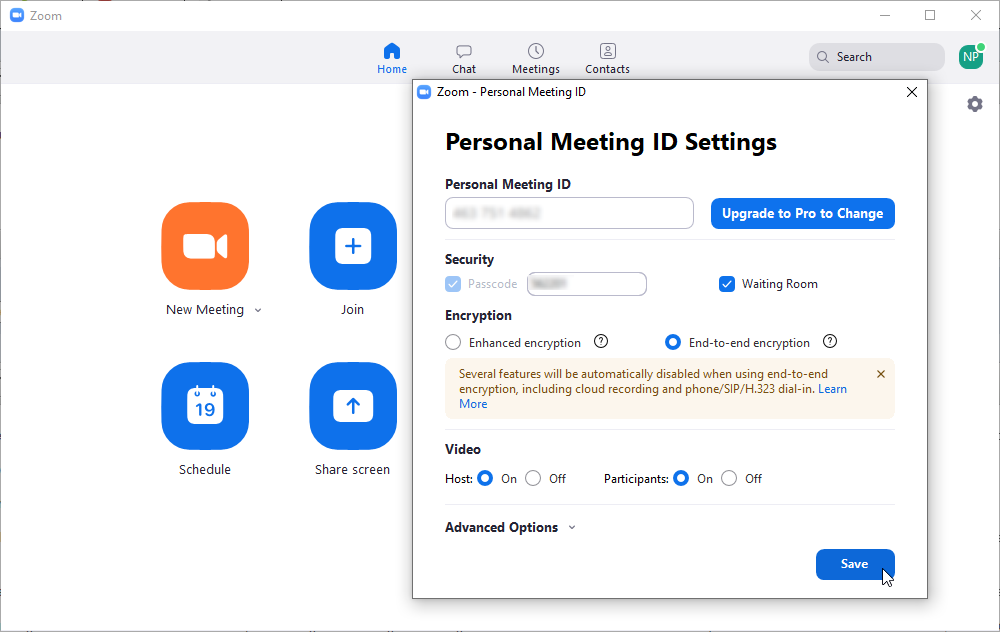 The headline new feature is likely to be a gamechanger for those with security concerns: support for end-to-end (E2E) encryption for meetings. The feature requires all participants are running Zoom via its desktop client, mobile app, or in a Zoom Room. Currently other platforms – including third-party apps leveraging the Zoom SDK – are not supported.
The feature currently does come with several limitations, with the following features all disabled when E2E is enabled: cloud recording, streaming, live transcription, Breakout Rooms, polling, and meeting reactions.
To enable the feature, users must log into their Zoom account via the web portal. Navigate to Settings > Meeting tab and scroll to the bottom of the Security section as shown above. Once enabled, admins can opt to make the setting the default for all new conversations, or users can configure it themselves via the client.
Elsewhere, hosts gain a 'Join Before Host' setting that allows participants to join the meeting 5, 10 or 15 minutes before the scheduled start time if enabled. Note, the feature isn't available for meetings with E2E encryption enabled.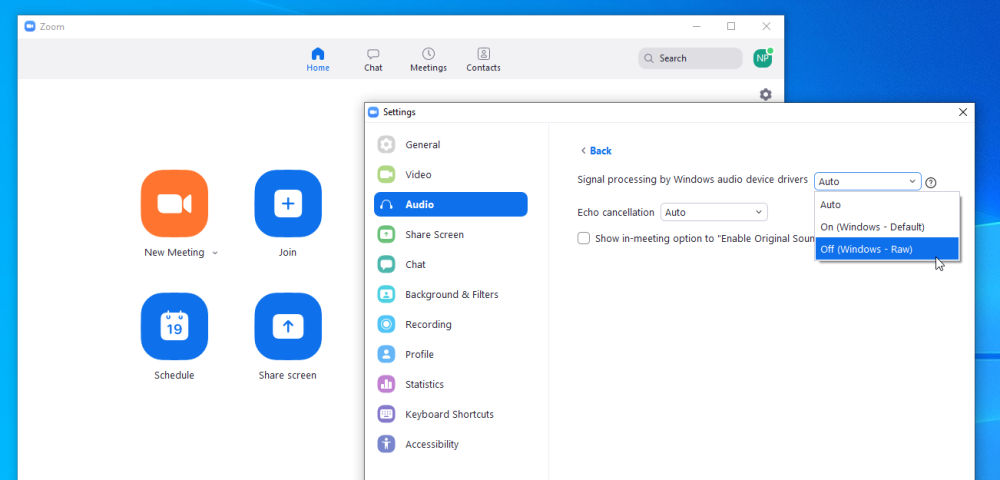 Other new features include the ability to sync sub-folders in Office 365 cloud contacts. There's also an enhanced login sequence for Zoom for Government users.
Windows devices with an audio device that supports raw mode gain a switch to disable Windows audio signal processing that may, in some circumstances, improve audio quality. Access this via Settings > Audio > Advanced.
Support for virtual background has also been widened to PCs running third-gen Intel Core i5/i7/i9 chips, as well as fifth-generation i3 chips. Virtual backgrounds on these devices run on 360p feeds at 15fps only.
Users also gain the ability to change their ringtone for meeting invites and phone calls, and can now filter searches to cover just starred messages. Account admins can also set a file-size limit on IM chats.
For a full rundown of new features, improvements, and bug fixes – including security enhancements – check the change log.
Zoom is available now as a free client download for Windows, Mac, Android and iOS. The service is available in both free and paid-for tiers.